Cesare Ragazzi Laboratories is an established leader in the field of scientific research into hair and scalp disorders, and the development of effective treatments. Since opening our first private clinic over forty years ago, we have treated over a million clients from all over the world.
Cesare Ragazzi Laboratories is a network of successful Centers in continuous expansion.
There are Centers in over 30 cities in Italy and a dense network has been widening constantly in the United States.
Here you can find the detailed list of CRLab Centers, in Italy and abroad:
The company is owned by AdviHair, a subsidiary of AdviCorp Plc
Cesare Ragazzi Laboratories is the established market leader and innovator in hair enhancement.
We combine unique proven technology with customer empathy. Our total hair care treatment and products can change lives.
We are sensitive and thoughtful, providing personalized services and 'healthy hair' products that enable people to look and feel great all day, every day.
Our clients have the confidence to enjoy a natural and active lifestyle, feel a positive sense of wellbeing and live life without compromise.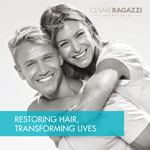 Download Company Profile