Brittle hair
Brittle hair is hair that appears opaque and without shininess. It is characterized by glaringly visible damage and deterioration of the shaft.
The causes that lead to the problem of brittle hair may be of endogenous and exogenous origin.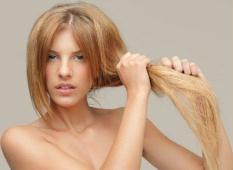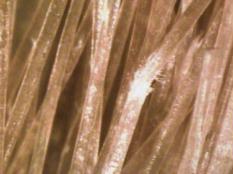 Brittle hair
An improper diet, psychological stress, genetic differences and hormonal imbalances are among the endogenous causes. Excessive exposure to the sun, atmospheric pollution and aggressive and frequent cosmetic hair treatments are instead among the exogenous causes of the condition.
Usually fine, thin hair becomes brittle more quickly and easily compared to thick and resistant hair, as its keratin structure is less compact and resistant.

As it is less hydrated due to the absence or reduction of sebum, dry and thin hair suffers damage from external agents more easily and as a result appears brittle. We can also include split ends in the category of brittle hair, i.e. when the shaft shows a breakage at the end.
To understand the hair deterioration and breakage process, it is important to understand its structure.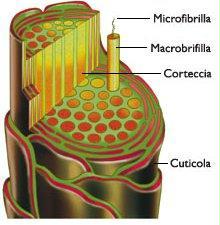 Cross section of hair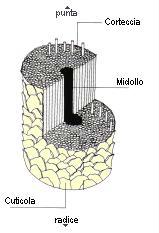 A cross section of the hair shows three concentric layers called the medulla, cortex and cuticle. The cuticle, which forms the outermost layer, is composed of keratin shingles (65-95%) overlapping on top of each other.
They form a hard, tough shield which has the function of protecting the hair from external chemical and environmental agents.
Under a microscope, brittle hair shows the absence of a cuticle. Without a cuticle, the hair will thin, becoming increasingly weak and fragile.
This leads to the deterioration of the structure of the keratin (compact microfilaments) which makes up the hair cortex. Hair found in these conditions and subject to a trichological or aggressive cosmetic treatment ends up deteriorating and ruining the cohesion and compactness of the cortex, resulting in the hair becoming brittle, easily breakable and more likely to fall out.

In the presence of brittle hair, it is necessary to avoid subjecting hair to vigorous brushing, chemical treatments, hair dyes, styling, bleaching, excessive exposure to the sunrays and other aggressive treatments. These methods cause massive damage to hair, as they destroy the keratin structure and impoverish the hair shaft of the sulphur-containing amino-acids necessary for making hair stronger and more resistant. These precautions are necessary to avoid further hair breakage, but are not a cure for hair that is already ruined. If hair is already ruined, it is important to act by identifying and overcoming the causes.

Excluding situations that require medical expertise, in the majority of cases the care and prevention of brittle hair can be managed by modelling a hair treatment on the specific and personal characteristics of the brittle hair in question, using customized trichological products and paying attention to avoid behavior that endanger the health of the hair.