Cuneiform hair or dwarf hair
This is very short hair, between 1 cm and a maximum of 2 cm in length, which usually has insufficient pigmentation. This hair has a base structure that is quite large, almost like normal hair. It then tends to get smaller towards the end, thus taking on the form of a very pointed cone.
This hair has a strong tendency to fall out.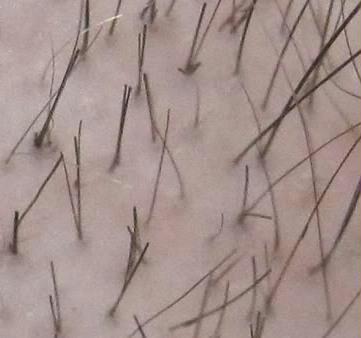 Cuneiform hair or dwarf hair
Cuneiform or dwarf hair looks a lot like hair in a normal growth phase. However, unlike this hair, it does not grow beyond this length and has the tendency to disappear permanently.
This phenomenon is notable during the terminal phase of seborrheic hair loss, characterized by hair loss caused by seborrhoea.