Dandruff or pityriasis
Dandruff is a scalp condition that usually arises between the ages of 10 and 25. It may improve between the ages of 45 and 55 or may continue during old age.
Its cause is a result of an accelerated turnover of epidermal cells, which following an increase in migration speed, are unable to reach complete maturity before detaching. Whitish-yellow flakes (masses of corneum cells) form and detach, gathering in patches or often spreading evenly across the scalp.
Itchiness is usually absent.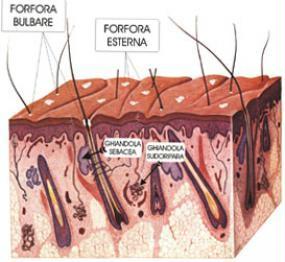 Scalp dandruff
The causes of dandruff are still debated. Some hypothesize that it occurs due to an androgenic influence, while others assign significant responsibility to the digestive system and, in particular, the liver.
Moreover, the appearance of dandruff is caused by a series of factors connected to diet, the fat metabolism and psychological problems. Everyone may suffer from this disorder in particular moments of their life.

The presence of mass quantities of the fungal infection Malassezia in the flakes and among the hair of individuals afflicted with dandruff has been scientifically proven. It is unknown if the fungus is responsible for dandruff or if a scalp full of dandruff constitutes a fertile breeding ground for the development of the fungus.
The presence of dandruff is a sign of numerous scalp problems, among which the most frequent is seborrheic dermatitis. Dandruff may be associated with other hair problems, such as greasy hair.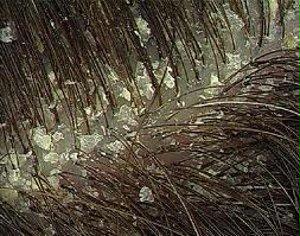 Scalp dandruff
Clinically, two different types of pityriasis are recognized:

1) dry or simple pityriasis, in which the scalp is covered in small, very fine flakes that are easily detached and end up covering clothes with dust, with the presence of normal skin and modest itchiness. It is often provoked by slight seborrheic dermatitis, which is nothing other than an inflammation of the skin. This irritation occurs in areas that are rich in sebaceous glands, which appear reddened and scaly. These symptoms may also be associated with androgenetic alopecia (pattern hair loss).

2) greasy or pityriasis steatoides, in which the scalp is covered in thicker, yellow, greasy flakes, which adhere to the often red and sweaty scalp, with the presence of moderate itchiness and reduced hair loss. It has quite an unsightly appearance. It is almost always caused by a rapid development of some cells of the superficial layer of the epidermis. This type of dandruff is also present in those afflicted by contact eczema or psoriasis. The scalp is easily irritable, which causes the itchiness and correspondent flaking. The size varies from person to person, and usually the condition occurs around the temples, forehead and ears. It is mostly seasonal and occurs with greater intensity in the colder seasons, then abating during the summer.

The main organisms that are found in dandruff are aerobic bacteria, acne bacillus (corynebacterium acnes) and various Pityrospori (Malassezia). The most common is undoubtedly Malassezia and the more serious the flakiness, the greater the number of superficial or follicular microorganisms with free and filamentous forms will be.
In conclusion, we can say that Malassezia is quantitatively the most common microorganism associated with dandruff. A reduction in Malassezia caused by a wide spectrum of antimycotic agents leads to a reduction the clinical aspect of dandruff and the objective measurement of flakiness. On the other hand, a recolonization of the microorganisms leads to the re-appearance of dandruff.

Many anti-dandruff hair treatments, shampoos and ltions are available for sale. These may contain just germicides to combat microorganisms, or keratolytics to eliminate dead cells and reduce subsequent flaking. Prolonged use of keratolytics may however cause a reduction in the corneum layer and increase seborrhea. Acid-based solutions exist that are presented as strong therapies and are not, however, always tolerated. We can confirm that the most practical solution is the increase in frequency of washing and the use of specific antimycotic shampoos combined with lotions.