Life cycle of hair
The life cycle of hair and its subsequent growth occur at a speed of 1-1.5 cm per month. Hair is a living element that follows a follicle cycle with an average duration of 2-6 years. In humans, unlike other mammals that are subject to a periodic change, this cyclic evolution is not synchronous (therefore each hair is independent from the others). A physiological loss of hair up to a maximum of 100 per day is considered normal. Hair grows cyclically following three phases: A growth phase called the anagen phase, a regression phase called the catagen phase and a resting phase called the telogen phase.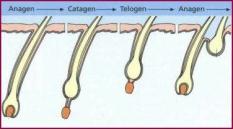 Hair cycle phases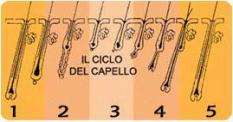 Life cycle of hair
With regards to the different lengths of the various phases of the hair growth cycle and in normal conditions, hair in the anagen phase represents 80-90% of the total, that in the catagen phase 1% and that in the telogen phase 10-20%.

There are six sub-phases in the anagen phase. The first five sub-phases last for a very short period of time and consist of the proliferative phase, while the sixth phase is the longest, and is characterized by a phase of differentiation. The duration of the anagen phase differs between men and women. It is recognized that for men it usually lasts 2-4 years, while for women 3-6 years.
The catagen phase represents the moment in which the follicle starts to diminish and slowly ceases mitosis. It has a duration of around 7-21 days. It is difficult to find hair in a trichogram during the catagen phase.
The telogen phase is the resting phase of the follicle and lasts about 3 months, during which the follicular sac that contains the hair bulb climbs towards the epidermis. This climb occurs at the cost of the lower segment of the follicle. In this phase, the bulb assumes its typical clubbed aspect due to the retraction of all the follicular sheaths. Once the climb is complete, the bulb is projected externally and upon the first pull (while shampooing or brushing), it leaves the follicular seat, where the anagen cycle for new hair has probably already started.

In humans, the hair cycle of the various follicles of the scalp is more asynchronous compared to that of mammals that undergo a periodic change. Nevertheless, during the course of the year, in humans we can observe two periods in which hair falls out in the telogen phase. This occurs in the spring and more visibly in the fall. This rhythm seems to obey and submit to the various natural cyclic phenomena, such as the length of the day and the change in temperature in the various days of the year.