Split ends
The phenomenon of split ends, also called trichoptilosis, is a hair problem that depends on an alteration of the hair shaft with concurrent modification and deterioration of the structure, form and physiology of the hair.
Due to weakness in the keratin structure which makes up the hair, thin and dry hair is more susceptible to split ends compared to thick hair.
If the causes are not found and removed, the cutting of hair is a temporary solution for split ends.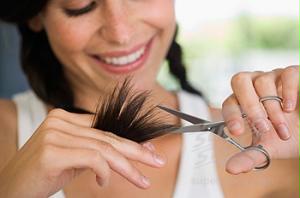 Split ends
It is impossible to definitively remove split ends by cutting them. If the cause is not removed, they will come back during the hair regrowth phase.
In hair that has split ends, the hair shaft shows pronged ends.


Tricoptilosi
Another frequent physiological alteration of hair ends is trichorrhexis nodosa.
In this situation, the hair shaft takes the form of the tip of a pen, with the presence of lengthwise cracks and nodules located along the entire shaft.


Tricoressia nodosa
In trichoclasis the hair shaft has a pronged end instead.


Tricoclasia
The term "Bubble Hair" indicates the presence of air bubbles inside the hair shaft.
Bubble Hair may be found in areas of fragile, thin and broken hair. Problems such as ringworm may cause Bubble Hair.


Bubble hairs
The last remedy for combating split ends and hair that breaks easily is to cease all chemical treatments (strong dyes, perms, highlights, decolorations, etc.). Moreover, it is important to undergo an oil or hydrating mask treatment, then cleansing the scalp and lastly proceeding with washes that require just one dosage of shampoo so as to not further damage the hair shaft.
Regardless of the treatments proposed, it is important to remember that the first remedy for split ends is prevention, which consists in a lifestyle that guarantees perfect hair health, thereby avoiding the phenomenon of split ends.

Proper nutrition providing the raw materials also allows us to strengthen damaged hair, making it less susceptible to split ends.
It is also useful to stop or reduce smoking, as smoke allows toxins to enter the circulation and these are then also absorbed by the hair bulbs, with harmful effects on the keratinization process, and favoring the appearance of split ends.